Cover Story: Holiday Stars - Interviews with two top sellers
eBay PowerUp Magazine
Fall, 2011
click here to read
Losing to Make Money
Fox Business Editor's Pick Video
August 8, 2011
click here to watch
1SaleADay.com founder Ben Federman consciously lost money for betterment of Internet startup
NYDailyNews.com
July 18, 2011
click here to read
Websites You Didn't Know Could Save You BIG Bucks: HuffPost Readers' Recommendations
Huffington Post Business
April 7, 2010
click here to read
Daily deals site 1SaleaDay raises tens of millions
Reuters
March 1, 2011
click here to read
Daily Deals Site 1SaleaDay Raises Tens of Millions
The New York Times
March 1, 2011
click here to read
The Cheapskate: Get a TrendNet 802.11n travel router for $19.99
CNET News
March 9, 2011
click here to read
1SaleADay.com's Ben Federman and the Value of a Daily Steal
Entrepreneur
September 5, 2011
click here to read
Our Philosophy and Mission
1SaleADay is a unique and sensational website offering products 80-90% off retail prices in various categories, which include Watch, Jewelry, Family, Consumer Electronics and Main. The listed product is only available for a 24-hour period until 12 A.M EST. The daily deal is then replaced with a new deeply discounted product for the following day.
Ben Federman, the Founder and CEO of 1SaleADay started the company in 2007, with just one employee in the space of a tiny apartment. Now the company is thriving with over 200 employees and two main locations in New York and Florida. 1SaleADay's special discounts and consumer friendliness has been featured in the NY Times, Huffington Post, Fox Business and many other well known publications.
eBay as one of today's leading marketplaces, serves as an outlet for 1SaleADay. This allows 1SaleADay to fulfill its goal of providing exceptional deals. We follow the foot-steps of our main site by bringing a deal-a-day to our eBay store. Customers have the opportunity to browse through top deals, place bids, and make offers all while sitting in the comfort of their own home. The ultimate goal of 1SaleADay eBay is to provide customers with exceptional deals and a fun-filled friendly experience.
Founder and CEO Ben Federman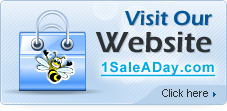 store home »