| | |
| --- | --- |
| | |
Welcome to Blossom Accessories (ABN 22 134 215 606).

We are Melbourne based company, and all items listed are in stock ready for delivery.

Blossom Accessories is your online, one-stop-shopping experience you won't find anywhere else. With all products in stock, including everything from fancy dress costumes, corsets, clubwear, fashion jewellery and lingerie, you'll be sure to find what your looking for.

At Blossom Accessories, we only sell what we have in stock which allows us to offer quick shipping. When you order a product from Blossom Accessories, you're sure to get it, and get it fast! In addition to our speedy shipping, we offer hassle free exchange & return.

We are extremely proud of the quality of the products that we sell online. Each item had been carefully selected for quality and workmanship to ensure that our customers will be fully satisfied with their purchase. Our store offers a 100% customer satisfaction guarantee as part of our excellent customer service.

To receive our exclusive Members only offers just sign up for our newsletter. It's free to join and promises some fantastic savings!
We want your visit to us to be both fun and rewarding! If you have a suggestion as to how we can make your visit even better we'd love to hear from you.

Dress up and Be Sexy With Blossom Accessories!
How long do I have to pay for my order?

7 days. If you are not able to pay within 7 days, providing you at least contact us and let us know when you can pay, we don't mind waiting a little longer. If we have not heard from you and have not received your payment within 4 days, we will open an Unpaid Item Dispute which may result in you receiving an Unpaid Item Strike from eBay.
Read more about how eBay treats unpaid items

How can I pay for my order?

Payment may only be made by any of the following methods subject to availability and relevant eBay policies.

We have a secure checkout system for all payments. At the end of your purchase you can either click on the checkout button above or we will email you the link. Please DO NOT email us with your payment and/or delivery info as you will be asked to enter this info via our secure checkout.
You will be able to printout your tax invoice after you've finished your checkout.

Methods of payment we accept: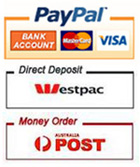 Please Note: International Buyer: We accept only paypal.
We DO NOT accept Paymate, COD or Cash (We DO NOT allow pick-ups).
Do you offer postage discount?

Yes. We do offer postage discount. It will be $3.00 for an additional item. Postage discount excludes free shipping items.
Example:
1. You buy 2 items with both $8.00 for the shipping. You will pay $8.00+$3.00=$11.00 for the shipping of the 2 items.
2. You buy 2 items. One item with $8.00 for shipping and the other one with Free Shipping. You pay $8.00 for shipping during checkout as our discount policy excludes free shipping items.

If you are buying more items to get the postage discount, do not click 'Pay Now' until you have purchased all the items you wish to have posted together.

Postage discounts are given when you click 'Pay Now' after buying the item, do not email the seller for postage discounts.

How soon will I receive my order?

We ship all orders that are complete (fully paid) by 11am AET, each weekday. (Excluding public holiday). So your order will be shipped either the day you order (if before 11am and you pay by credit card) or the next business day.

For our buyer in Australia, we have listed the Australia Post next business day Express Post networks postcodes below for your convenience. If your choose Express Post for shipping during checkout and if your postcode is listed below, then you will receive your delivery the business day after we post it! If you are in a regional area that is not listed below, then you need to allow 2 days for major regional areas and 3 days for remote areas for your order to arrive.
Next Business day* Express Delivery Postcodes:

Location
Postcode range(s)
Canberra
0200-0250; 2600-2639; 2900-2920
Sydney and suburbs
Gosford Region
Newcastle
Tweed Heads/Murwillumbah
Wollongong Area
1000-1920; 2000-2249; 2555-2574; 2740-2786
2250-2265
2280-2300; 2302-2310
2484-2490
2500-2530
All places in Victoria‡
Albury/Lavington
3000-3999; 8000-8999
2640-2641; 2708
Brisbane
Gold Coast
Booval/Ipswich Areas
City of Toowoomba
Strathpine/Caboolture
Sunshine Coast Areas
Maryborough City
Hervey Bay City
Bundaberg City
4000-4209
4210-4299; 9726; 9728; 9729
4300-4305
4350; 4352†
4500-4510; 4520
4550-4601
4650#
4655#
4670#

Perth

CBD

6000-6005; 6800-6899

Adelaide
5000-5199; 5800-5999
Hobart Area
Launceston

7000-7019; 7050-7053; 7055; 7892
7248-7325


# Service guaranteed to township only.
† Service guaranteed to Mail Centre Post Office Boxes only.
‡ Next day delivery to roadside addresses or offshore islands is not guaranteed.
** Please note that someone must be present at the time of delivery to sign for the parcel. If there's no one at location on delivery, the parcel will be send to your local post office to be collected.

What will shipping cost?

Shipping cost varies and is listed on each individual listing.
Who will deliver my order?

We use Australia Post to handle the delivery of your order.

Choose between:
Super fast eParcel Express Post (signature on delivery required)
Economical Regular Post
Safe and Secure Registered Post

Australia Post provides the flexibility to deliver to almost any address in Australia; including PO Box, RMB, Country locations and pick up from your local post office.

International Parcels are shipped via Australia Post Registered Post International. Please note international parcels may take up to 15 working days to arrive.

Can I change my delivery address?

Yes. If the address you have provided is incorrect or you wish to change it after you have already paid, you must email us the correct street address via eBay's Messaging system as soon as possible to avoid delays in dispatching your order.

Correct address
Please take extra care to ensure the Postal Address is correct on the 'Review your purchase' page, before you pay. If the address displayed is not correct, click 'Change' to select or enter a different address. Otherwise your transaction may need to be cancelled and done again.



We understand that buying goods online, especially clothing can be risky.
We are committed to 100% customer satisfaction.
We offer a 'no questions asked' refund or exchange policy.
We are happy to offer a refund or exchange within seven days of receipt of goods.
Refunds and exchanges will be subject to the goods being returned to us for processing.
The buyer is responsible for all associated return shipping costs.
Please contact us should you wish to arrange an exchange or refund.

Exchanges

Once you notify us of the item you wish to exchange for, we will put it aside for you.
You can then post your item to our returns address: Blossom Accessories Pty Ltd, PO Box 5, Bundoora BC, 5/445 Grimshaw St, Bundoora VIC 3083.
Please include return pre-paid postage with your return so we can send the exchange back to you.
Please include note of detail exchanges. Example: item no, colour, or size if applicable to avoid delay.
An Australia Post pre-paid satchel is ideal. We recommend using Registered Post or Express Post to insure against loss.
Once we receive your returned item, we will post the replacement back to you.

Refunds

Please contact us to arrange a refund.
Our returns address is Blossom Accessories Pty Ltd, PO Box 5, Bundoora BC, 5/445 Grimshaw St, Bundoora VIC 3083.
When returning your item, we recommend using Registered Post or Express Post to insure against loss.
Once we receive your returned item, we will post your refund and notify you via e-mail.
If you paid via Bank Deposit, please include your bank details with your return and we will deposit the refund into your bank account.
If you paid via PayPal, the funds will either be in your PayPal account or refunded back to your credit card depending on how you originally paid.
A restocking fee of 20% or $10.00, whichever is greater, will be deducted from the refunds where free postage is offered for that item.

The following details how refunds are credited via PayPal:
Depending on the company that issued your credit card, it might take up to 30 days for your refund to appear on your credit card statement. If you paid using a credit card, the money is refunded to that credit card. If you paid using your bank account or PayPal account balance, the money is refunded to your PayPal account. If you paid using a combination of a credit card and another payment method, the amount paid with a credit card is refunded to that credit card. The remaining amount is refunded to your PayPal account.
Is leaving feedback really that important?

Yes. Without your feedback, other eBay members may find it difficult knowing who they can trust for superior service. Doing business over the internet can be risky, and so knowing how previous customers have felt about dealing with a seller is really important. We didn't achieve our over 20,000 positive feedback (and growing) by accident. It is a reflection of our commitment to total customer satisfaction in every transaction.
How should I leave feedback for Blossom Accessories?

eBay feedback consists of two parts. Firstly the feedback itself, and secondly a rating out of 5 stars on specific aspects of the transaction. As a measure of goodwill, we will automatically leave Positive Feedback for you as soon as we received feedback from you. Once you have received your order and are satisfied that everything is as expected, please leave us Positive Feedback and full 5-star ratings. Anything less than 5 stars on our Detailed Seller Ratings instantly affects our standing with eBay. If you honestly feel we deserve less than 5 stars for anything, please contact us via ebay messaging with details of what you're not happy with, and give us a chance to fix it for you.
What if I am really not happy with my transaction?

Leaving negative feedback and less than 5 star ratings actually affects our good standing with eBay and can in turn affect our sales. If you honestly feel we deserve negative feedback or low star ratings, please contact us via ebay messaging with details of what you're not happy with, and give us a chance to fix it for you. We didn't achieve our over 20,000 positive feedback (and growing) by accident. It is a reflection of our commitment to total customer satisfaction in every transaction.

How do I revise negative or neutral feedback I left previously?
If you had left negative or neutral feedback for us and wish to revise this to positive feedback, we must first send you a Feedback Revision Request before you can make the change. Please contact us via ebay messaging first and we will then raise the Feedback Revision Request which you must then complete within 10 days.
Click here for more information about Feedback Revision

How can I leave a testimonial about the wonderful service I received from Blossom Accessories?
We believe good service deserves a mention and we strive hard to earn your recommendation. If you would like to share what you liked about your Blossom Accessories buying experience, we would be honoured to include it on our website. Just send your comments via ebay messaging and let us know that you're happy for them to be shared publicly. Please accept our sincere thanks in advance.