Buying multiple items
Many buyers like to buy more than 1 item when they are shopping on eBay - and eBay do not make this easy!
We get many questions from buyers who struggle to figure out what to click and where so we have written this guide in the hope it helps.
Many sellers use the eBay checkout system. This automatically calculates your items cost including postage and packaging, deducting any P&P discounts available. You can then pay for all your items together and have them arrive at the same time.
At Kay Dees Crafts our P&P discounts work for all items purchased by UK buyers, including 1st and 2nd class freepost items - but overseas buyers may need to request a total for heavier items such as paper packs. If an item is freepost we do not charge extra for this to be posted with your 1st class items.
Buying more than 1 item
When you have found an item you would like to buy you will see this on the top of the listing:
If you would like to buy more than one you need to alter the quantity shown above - simply change the quantity to the amount you would like to buy. If you do not see any numbers where the 'more than 10 available' is showing that means there is only 1 item left in stock.
Once you have changed the quantity click on the buy button (showing above as buy another). That will bring you to the next screen:
If you only want to buy that item you can click pay now and it will take you through to checkout - but if you want to buy different items click the visit seller's shop link as shown above. Continue shopping this way until you have everything you would like to buy.
When you have finished shopping
When you have finished shopping click the pay now button - you will be shown all your items in a long list. At the bottom you will see this: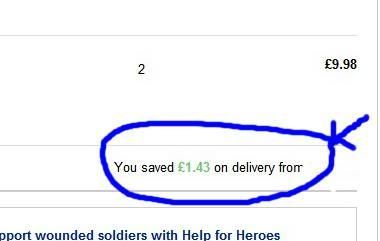 This shows you how much P&P discount the seller has given.
If the total P&P seems incorrect you can contact the seller in a couple of ways. At the top of your checkout list if you look REALLY hard you will see this tiny writing:
Click on that and it will automatically generate an invoice request that your seller can issue - this step is needed if your seller does not use the eBay checkout system.
Contact seller
You can also contact the seller through your my eBay area. If you go to your won items you will see a list of all the items you have purchased. Click on the drop down list to find contact seller: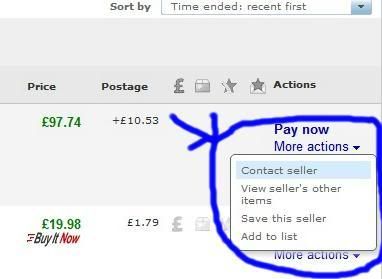 You can also find the 'ask seller a question' button right at the very bottom of every listing. For some very strange reason eBay moved it from the top of the screen and buried it down there.
How much P&P discount?
Next to the postage details you will see 2 links. These will show you the different postage methods available such as 1st class, 2nd class or Special Delivery along with the cost. You can also find out how much discount you get for buying more than one item: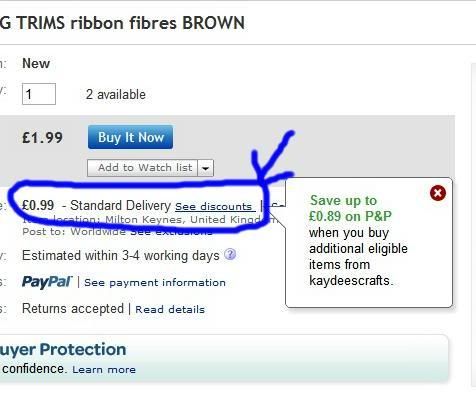 We really hope this has helped you figure out how to use the eBay checkout system. If you have any questions or suggestions for how to improve this page please contact us. As we are very familiar with eBays peculiar systems there may well be steps we have missed out.
Karen & Dean