About Us
Hi, my name is Krisztian Panczel. I'm the director of Cheap Sheds Pty Ltd. I am horticultural scientist by trade and spent my career in the field of horticulture and landscape construction.
My staff and I are dedicated to offering our customers only high-quality products at the lowest prices possible. Plus, we go the extra mile to offer exceptional customer service (you can see for yourself on this website what our customers have to say about dealing with us on the
testimonial page
). Also we work only with the best manufacturers to ensure exceptional product quality. (all of our products are Australian made, and come with a written warranty of up to 20 years.)
Our mission is to provide valued customers with an outstanding shopping experience. My staff and I not only offer the best quality products at the lowest prices but also share the joy of giving with You. Let me explain...
When you buy a product from us, you will also support a child in India to have clean drinking water for 30 days. You see, many schools in India do not have drinking water facility at all. Even those do have, they cannot guaranty the safety of the water. The water might be highly contaminated, and unsafe to drink.
To help make a difference for children in India, Cheap Sheds are working in collaboration with
Buy1GIVE1
and we are the first in the industry to establish "transaction based giving". That means every time a customer buys one of my outdoor structures (like sheds or garages), I'll make a contribution to provide safe and clean drinking water facility to a child in India for 30 days.
Imagine how great it would be if you could help make a difference with every item you purchase. Yet it would not even cost you a cent!
You can make a difference just by shopping with us. Why would you shop anywhere else? You are getting the cheapest prices guaranteed and also making a positive difference in someone's life. How cool is that?
While you're helping the children in India to access to safe drinking water, you are also getting the best deal from us: high-quality sheds and garages at the lowest prices possible. How cool that is!
By the way, I truly value every single one of our current and future customers. Because you make my business. So if you have any suggestions regarding anything about my business, my website or anything at all, please do not hesitate to contact me. Simply
click here
. I'll read every comment, good or bad, and reply every enquiry. You can also put your comment in our Facebook page and "Like" us, Just
click here
and post.
Please feel free to check out our huge range of
sheds
on my website.
I look forward hearing from you.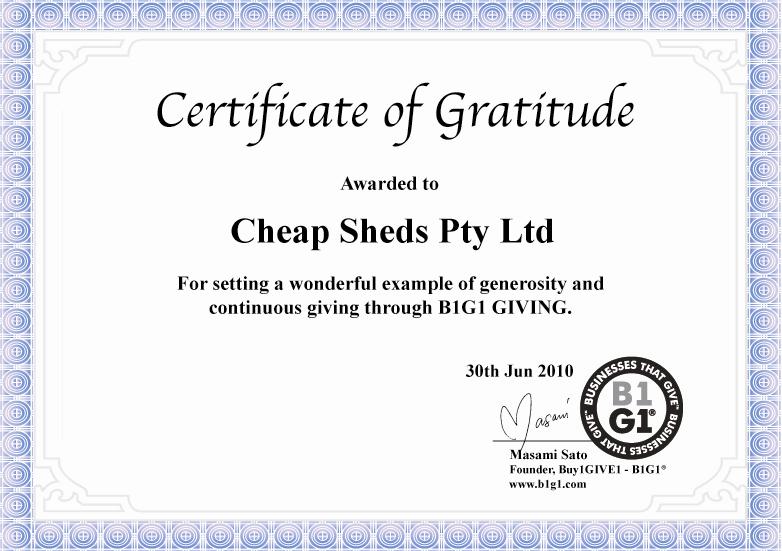 Come shopping with me and make a difference!