Frequently Asked Questions about Italian Charms
---
Please click on links or scroll down to see all answers to these questions & more :)

General

ITALIAN CHARM HEAVEN eBay Store...
Q. What is this popular new Italian Charm jewellery trend all about?
A. Without a doubt, Italian charm bracelets are one of the hottest range in the charm bracelet genre today. Italian influence, modular in design, classy, easy to wear, durable & loads of fun. They are loved by young & old alike.
Italian charm bracelets have brought a whole new look to the world of charms. Unlike traditional charm bracelets, links can be mix n' matched in a matter of seconds to suit your mood, outfit, occasion or whatever you like. Use themes, favourite colours, make a statement or have a special memory bracelet by adding decorative links for birthdays, hobbies, travel & holidays, names, initials, etc.
Collect them! You can make & wear as many bracelets as you want. Great gift idea for wives, husbands, mums, daughters, sons, sisters, brothers, friends relatives, teachers, babysitters, just to name a few.
You design them...create them about YOU & what is special to YOU!

Q. How do I make an Italian Charm Bracelet?
A. There are a couple of ways to achieve your desired bracelet.
1. Begin with a "Starter Bracelet" in your size, so you can wear your beautiful bracelet straight away. Gold & silver tone finishes are available and also a variety of surf, punk and sport styles available too. Then add decorative links at your leisure or even request them as gifts from friends or family! Hundreds of gorgeous designs are available from my store.
2. Purchase enough decorative links to fit your wrist size, most designs are available for instant purchase using the Buy It Now button.
Option 1. is the most popular way to go. Most of my customer's first purchase is a Starter Bracelet and a couple of quality decorative charms to get them on their way. Most return regularly to add to their bracelet, some continue to collect them and swap their charms around for a new look.
Q. What size bracelet do I need?
A. Bracelets are available at Italian Charm Heaven typically in four popular sizes. Of course wrists come in a wide variety of sizes and not everyone has the same tastes for how they like a bracelet to fit. As a general rule, you can measure your wrist and add about 1.5 cm / 1/2" to figure out how many links you will need for a comfortable fit. Here are the sizes sold in my store and a guide that will help you;
- Child
- Lady
- Mens
- Anklet
14 links & the total length of bracelet is 13.5cm / 5.25"
18 links & the total length of bracelet is 17cm / 6.75"
21 links & the total length of bracelet is 20cm / 8"
22 links & the total length of bracelet is 21cm /8.25"
Q. What if I need to change the size of my bracelet?
A. Italian Charm bracelets are completely adjustable, so you can add & subtract links as needed.
Q. How do I link my charms together?
A. Each link has a spring loaded mechanism that slides open and unhooks easy just using your fingers, so replacing charms or changing their order is a snap. No tools required! Every purchase receives easy to follow instructions. However, some people do prefer to use a Charm Tool which are also available in my store. This makes it even easier and saves your nails!

1.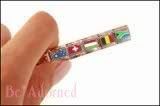 2.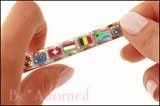 3.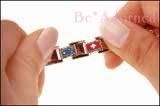 4.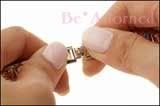 5.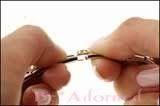 6.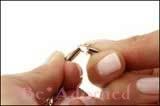 7.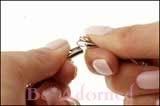 8.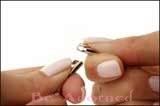 Q. What do I do with my spare blank links?
A. When you get a new charm, you simply remove a blank link and replace it with your charm. Save your blank links to start another bracelet.
Q. Are your Italian charms compatible with other Italian Charm brands?
A. Yes! all my charms are regular medium / 9mm size and are compatible with all major authentic Italian Charm brands such as ,Nomination, Zoppini, Unodomani, Mudd, Pugster, Uberry, Boxing, Disney, Puzzle, etc.

Q. What styles / designs of Italian Charm links do you have available in your store?
A. Hundreds of absolute gorgeous & stunning designs are available for instant purchase. Some include, Alphabet Letters/Names, Animals, Baby, Birthstones, Bracelets, Cats, Charm Tools, Cherubs & Angels, Festive & Holidays, Dance, Dangle, Disney, Dog, Family, Flags/Countries, Flower, Hobby & Job, Key rings & Mobile charms, Laser, Love & Hearts, Medical Alert, Mega, Mystical & Fantasy, Religious, Sport, Watches, Word & Sayings, Zodiac & Astrology. Plus there is more! Kick back, get a cuppa & check em out! Click here for my store.



Q. Do you have Medical Alert Identification Bracelets?
A. Yes, I carry a very fashionable range of Italian Charm Medical Alert & Blood Group jewellery. Suitable for all ages. I have many conditions and allergies in my store available for instant purchase. If you are looking for something in particular, please contact me and I will see what I can do to accommodate your needs.

Q. Can boys / men wear them?
A. Absolutely. Italian charm bracelets & charms are unisex and hugely popular with boys/teens & men. I have a terrific range of charms to suit the fussiest man or teen.
Q. Will your Charm bracelet tarnish or rust?
A. No. My Italian Charm bracelets are made from the highest quality stainless steel. You can wear your bracelet every day and never worry about tarnish or rust.
Q. I have sensitive skin, will my bracelet cause me to rash?
A. No. My bracelets are composed of nickel free stainless steel. Often people who cannot wear metal jewellery are allergic to the nickel in the jewellery. I have had many happy customers tell me that the Italian Charms are the first metal jewellery they have been able to wear.
Q. How do I care for my bracelet?
A. A jeweller's polishing cloth is all you need to keep your bracelet looking beautiful. Cleaning solutions can damage the finish & as with any jewellery, it is not recommended that you shower or go swimming wearing your Italian Charm bracelet. Take care when removing clothing that it does not catch.




Q. How do I tell the difference between a quality charm & a cheap charm?

Quality Enameled Charms are unique & stylish in design & just gorgeous. Beautifully detailed & finished with a high quality enamel for durability. Huge range available & new designs coming out regularly. The link will slide on and off smoothly. Each charm is partially handmade as the picture is soldered onto each base link individually. You will be impressed by the detail & high quality of this range.
Quality Laser Charms with lasered messages/pictures will never fade or rub off unlike the cheaper laser charms available. The engraving is crisp and clear and stands out beautifully. It will last a lifetime.
Cheap Charms are poorly constructed & cast made. The gold & colours wear off as they don't have any protective enamel coating on them. Their designs are poor & limited, with little detail or style. Without a doubt you can see & feel the difference and this is the reason why they are on sale so cheaply.
Please bear this in mind when shopping for your charms; If you see a similar design for sale elsewhere for lesser price, it is most likely a cheaper quality reproduction. It may display similar in the photo, but when you compare side by side the quality, durability, dimension & feel is very different and just not comparable.
Cheap Laser Charms are also noticeably different as well. The messages or pictures are very light in colour to start off with, they don't stand out & do fade in time.
Please keep this in mind when shopping for Italian Charms. Purchase from my store with confidence. I will ensure you get quality, service, reliability & an all round enjoyable shopping experience.
Q. Can I wear them anywhere else?
A. Yes! They can worn as anklets, chokers, belly chains or wherever you desire. Just adjust the size and your set! They are completely stretchy. Anklet sizes are available in my store.
Q. What is a Mega Charm and how can I use them in my bracelet?
A. A Mega Charm is 18mm in length and height which you are able to attach two rows of Italian charm links to make a wider and more spectacular bracelet. Use it as a centerpiece & show off more of your cute charms. Change them around for a variety of styles and looks.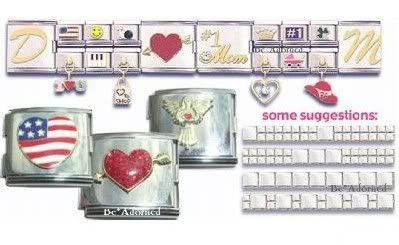 Q. What is your shipping and handling charge?
A. Within Australia, $3.00 is all you pay for as many charm purchases (1-100+) combined within 3 days and paid for in one transaction. Please refer to item description for full details & my store Italian Charm Heaven for periodic Special Discounts & Free Post Offers.
Q. Do you ship Internationally?
A. Sure do! International buyers welcome. Shipping worldwide is $4.50 AUD for as many charm (1-100+) purchases combined within 3 days and paid for in one transaction. Please refer to item description for other shipping costs or contact me via "Ask the Seller a Question" for quote.
Q. What packaging do you use when you ship my item?
A. For Italian Charms, I ship in a sturdy bubble mailer, to ensure your charms arrive safely in tip top shape.
Q. Do you gift wrap?
A. Some purchases may come with a Free complimentary charm bag. For gifts that are not in a charm bag, on request, I will wrap your charms in tissue paper as a free service to my customers. Italian Charm Heaven provides a free gift message service for it's customers if requested. Just email me your message when replying and it will be included in your gift.
Q. What is your return policy?
A. I pride myself on the integrity of my auctions, listings product & service. Your satisfaction is my priority.

All items are hand inspected before packaging to assure top quality goods are being sent to you without any imperfections.
If an item is found to be defective, I will happily offer a replacement of the same item, subject to availability. Contact must be made no later than five days of receiving the item in the mail. The item must be returned to me for inspection. I cannot offer refunds, but I am open to discuss & resolve any issues amicably. Any issues, will be dealt with & resolved on an individual basis.
Please select your purchases carefully, exchanges or refunds will not be accepted if you simply change your mind. Extensive information and photos are provided to ensure you are able to make an informed decision prior to your commitment to purchase.
Refunds, returns or exchanges will not be made if you realise after you purchase that these are not traditional charms. All my items are Italian Charm related as described in all my listing descriptions.
I encourage and welcome you to ask any questions via "Ask the Seller a Question" prior to purchasing and after purchase I am always available to assist with any queries.


Some popular ideas for your bracelet!
Personalise your bracelet with your name, initials or nickname.
Add charms reflecting your hobbies, pets, children, family and life.
Add some bling! by adding cubic zirconia's or Swarovski rhinestone crystals to give a more colourful, sparkling and upscale look.
Add your favourite footy or rugby team to show your support.
Add Laser links to express your message or how you feel.
Mix some dangle links with you bracelet to give you a more dynamic appearance
Add a charm with your blood type or medical alert incase of emergency.
Create a birthday gift bracelet for a friend or relative & include a zodiac & birthstone charm.
Choose charms in your favourite colour theme to match your favourite outfit.
Dedicate an "in memory" bracelet to celebrate a loved one.

Click Here to START SHOPPING in my eBay store!